Mustad Red Bait Holder Fishing Hooks Box 92668NPNR
Mustad the No.1 brand of fishing hooks has several styles and patterns to cover all forms of fishing! The most popular and versatile pattern is the bait holder style hook
Featuring a sliced shank the Mustad Red Baitholder 92668NPNR hook keeps your bait firmly secured to the the hook perfect for soft flesh baits.
Whether you fish fresh or salt Mustad Red Bait Holder Hook won't let you down super sharp and incredibly strong the Mustad Red Bait holder Pattern is a must for any serious fisher!
Mustad Red Bait Holder 92668NPNR fishing hooks are suitable to use to target freshwater and estuary fish such as snapper, morwong, trevally, flathead etc.
Features and Specifications
Model 92668NPNR
Qty Sizes 1, 2, 4, 6 come in a box of 50 hooks. Sizes 1/0, 2/0, 3/0 and 4/0 come in a box of 25 hooks
Red Nickel Finish
Sliced Shank to help keep bait secure
Chemically Sharpened
Suitable for flesh baits, prawn and molluscs
Appropriate for trolling and casting in saltwater
IMPORTANT NOTICE - PRICE OF HOOKS WILL VARY FOR EACH SIZE - THE LOWEST PRICE IS DISPLAYED FIRST - PLEASE SELECT THE SIZE YOU ARE INTERESTED IN FROM OUR CHOOSE OPTIONS MENU TO DISPLAY THE PRICE FOR THAT SIZE.
Fishing Hook and Species Guide
| Common Species | Suitable Red Bait holder Hook Sizes |
| --- | --- |
| Australian Salmon | 2/0 to 4/0 |
| Bream | 6 to 1/0 |
| Whiting or Dart | 6 to 2 |
| Flathead | 2 to 3/0 |
| Morwong | 2/0 to 4/0 |
| Silver Trevally | 4 to 3/0 |
| Snapper | 1/0 to 4/0 |
| Tailor | 1/0 to 4/0 |
| Slimy Mackerel | 6 to 1/0 |
| Mangrove Jack | 4 to 2/0 |
| Tarwhine | 4 to 1 |
| Trout | 6 to 4 |
| Murray Cod | 1/0 to 4/0 |
* This guide is a general guide only for common fish species if you are targeting a species not listed
and are not sure what hook size to choose contact us or use an internet search engine for instant results.
Hook Size Chart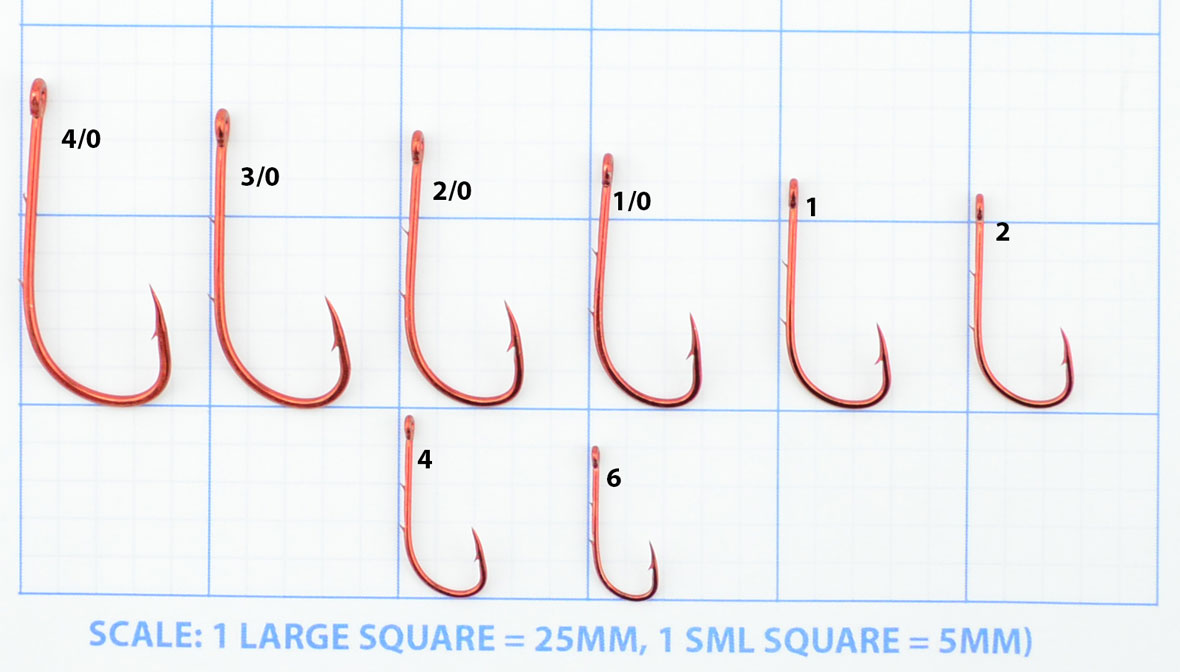 Note the actual hook size image you will note is not to scale, therefore please use the squares/grid to calculate an idea of the actual hook size.
Benefits
The Mustad Red Bait Holder hooks are chemically sharpened to produce a super sharp hook for easy penetration when setting the hook.
Red Colour helps add a strike trigger with some bait types, while with flesh baits it blends in perfectly.
The dive lip lets the lure flawlessly dive into the depths of the ocean.
Two metal slices are formed in to the shank of the hook to further enhance bait security keeping you bait nice and neat instead of the usual messy blob that forms at the bottom of other hooks.
Mustad Red Bait holder Hooks the perfect utilitarian, add some to your kit today!