Mustad Big Gun Fishing Hooks (25 Hook Box)
Mustad Big Gun hooks (10829NPBLN) are serious hooks for serious fisherman who want to catch serious fish. No matter whether you're a bait fisherman who chases bream, snapper, mangrove jack and coral trout, or a big game angler live baiting for kingfish, tuna and other big fish, whatever the fishing situation there's a Mustad Big Gun hook ready to go.
Mustad a name synonymous fishing have been designing and manufacturing hooks for over 125 years. Mustad know a thing or two about fishing hooks! The Mustad Big Gun hooks are a needle point black nickel hook that is ultra sharp and extremely strong.
Features and Specifications
Model: Big Gun 10829NPBLN
Qty: 25 hooks
Chemically Sharpened Needle Point
Black Nickel Finish
High Carbon Non Tempered Steel
Offset Hook Point
IMPORTANT NOTICE - PRICE OF HOOKS WILL VARY FOR EACH SIZE - THE LOWEST PRICE IS DISPLAYED FIRST - PLEASE SELECT THE SIZE YOU ARE INTERESTED IN FROM OUR CHOOSE OPTIONS MENU TO DISPLAY THE PRICE FOR THAT SIZE.
Fishing Hook and Species Guide
| Common Species | Suitable Big Gun Hook Sizes |
| --- | --- |
| Australian Salmon | 2/0 to 8/0 |
| Bream | 1/0 |
| Drummer | 1/0 |
| Flathead | 1/0 |
| Groper | 3/0 to 6/0 |
| Kingfish | 4/0 to 12/0 |
| Mangrove Jack | 1/0 to 2/0 |
| Morwong | 2/0 to 6/0 |
| Mulloway | 6/0 to 12/0 |
| Samson Fish | 2/0 to 8/0 |
| Silver Trevally | 1/0 to 3/0 |
| Snapper | 2/0 to 8/0 |
| Tailor | 2/0 to 8/0 |
| Threadfin Salmon | 1/0 to 4/0 |
* This guide is a general guide only for common fish species if you are targeting a species not listed and are not sure what hook size to choose contact us or use an internet search engine for instant results.
Hook Size Guide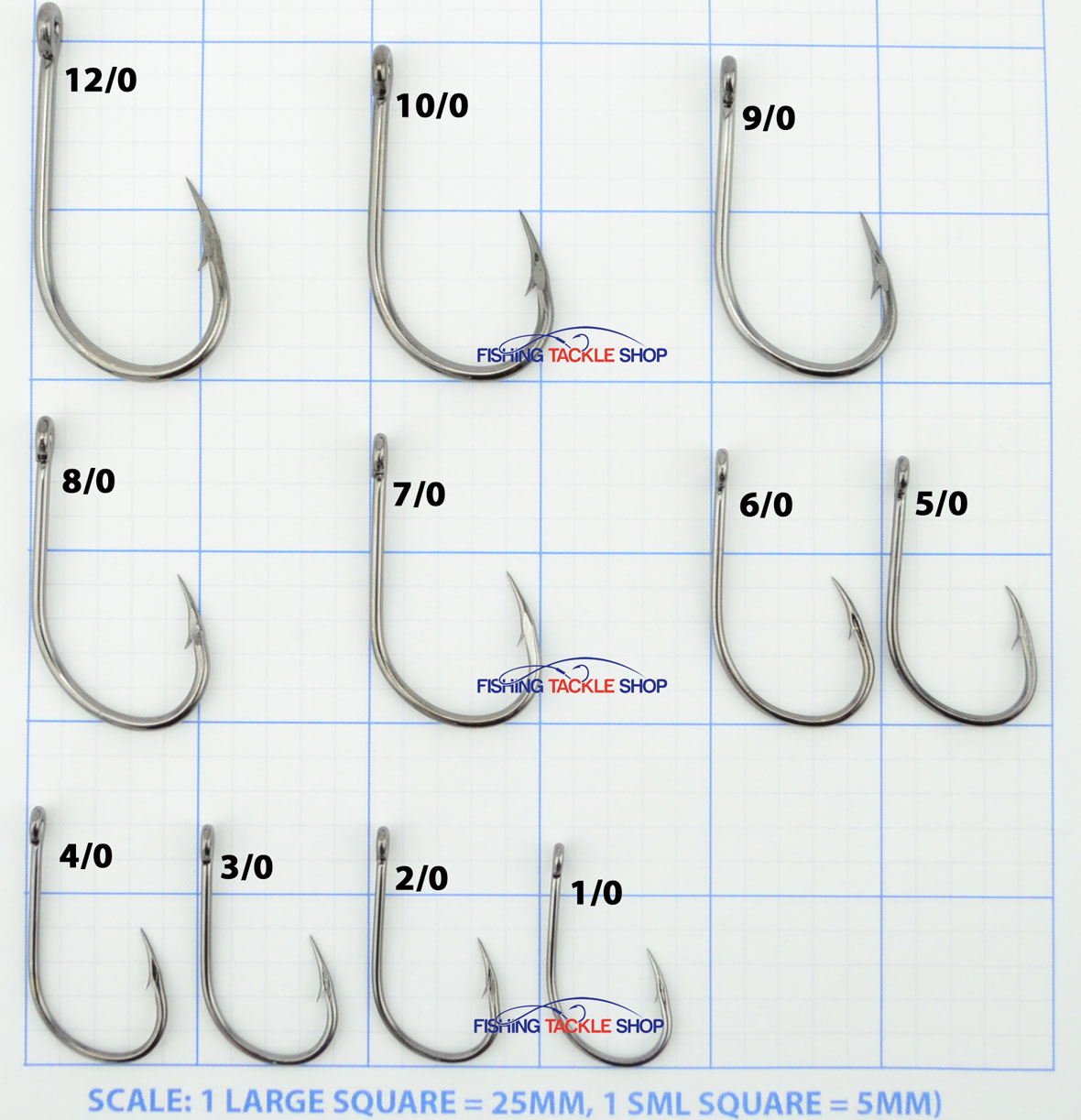 Note: Above image is not to real life scale so please use the square grid and metrics supplied above to determine hook size.
Benefits
Chemically Sharpened Needle point ( NP) produces an ultra sharp point ready to go straight out the box.
Black Nickel finish (BN) increase corrosion resistance.
High Carbon non tempered steel for strength without adding bulk.
Offset hook point for easy penetration and strong hook set.
When it's time to pull out the Big Gun's reach for a Box of Mustad Big Gun Hooks!