Mustad Big Red Fishing Hooks (Box hooks of 25-50 depending on size chosen)
Mustad Hooks the No.1 hook in the world with a rich history making hooks for over 125 years.
The Mustad Big Red fishing hooks (92554NPNR) are arguably the most popular fishing hooks in the Mustad range of hooks.
The Mustad Big Red fishing hooks are a high carbon, chemically sharpened premium fishing hook. Mustad Big Reds are a super strong hook, ideal for many fish species and bait varieties baits such as pilchards, squid, cut strip baits, crabs etc.
Mustad Big Red fishing hooks are a double strength fishing hook. Mustad Big Red fishing hooks go through a chemical process that sharpens the hook, making this popular suicide pattern hook extremely sharp. This insanely sharp hook will offer quick penetration with a small entry hole. When fishing you can always trust Mustad Hooks!
Features and Specifications
Model: Big Red 92554NPNR
Qty: 25 Hooks (except size 1 which contains 50 hooks)
Chemically Sharpened Needle Point
Nickel Red Finish
High Carbon Non Tempered Steel
Suicide Pattern Offset Hook Point
IMPORTANT NOTICE - PRICE OF HOOKS WILL VARY FOR EACH SIZE - THE LOWEST PRICE IS DISPLAYED FIRST - PLEASE SELECT THE SIZE YOU ARE INTERESTED IN FROM OUR CHOOSE OPTIONS MENU TO DISPLAY THE PRICE FOR THAT SIZE.
Fishing Hook and Species Guides
| Common Species | Suitable Big Red Hook Sizes |
| --- | --- |
| Australian Salmon | 2/0 to 4/0 |
| Bream | 6 to 1/0 |
| Whiting or Dart | 6 to 2 |
| Flathead | 2 to 3/0 |
| Barramundi | 1 to 5/0 |
| Kingfish | 4/0 to 8/0 |
| Mangrove Jack | 1/0 to 2/0 |
| Morwong | 2/0 to 6/0 |
| Mulloway | 4/0 to 8/0 |
| Samson Fish | 2/0 to 8/0 |
| Silver Trevally | 1/0 to 3/0 |
| Snapper | 2/0 to 8/0 |
| Tailor | 2/0 to 8/0 |
| Threadfin Salmon | 1/0 to 4/0 |
Hook Size Guide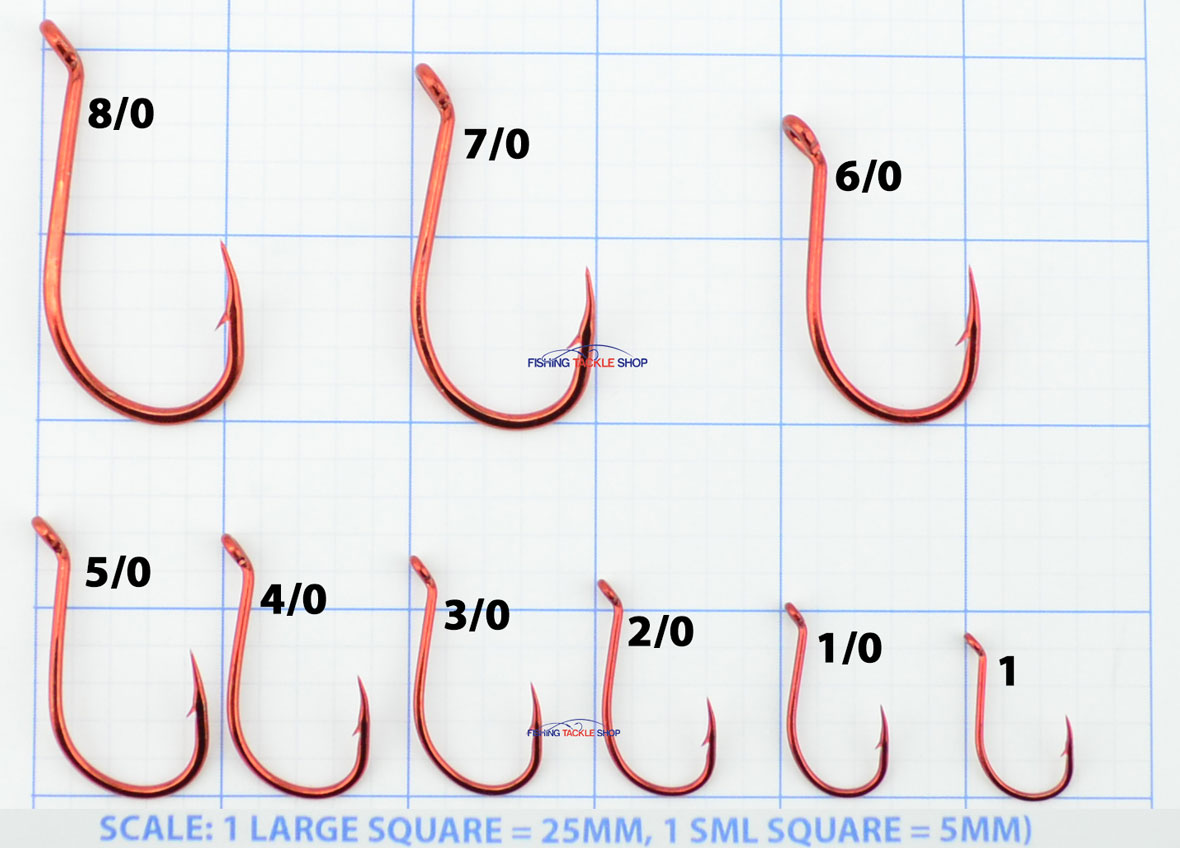 Note: Image is not to live scale therefore please use the square grid to determine the calculate the size of hooks.
Benefits
Chemically Sharpened Needle point - NP the chemical process cuts an extremely sharp point hooks are ready to go straight out the box.
Red Nickel finish - NR protects from corrosion while adding a natural strike trigger in the red hook colour great for strip baits and flesh baits.
High Carbon non tempered steel provides strength.
Offset hook point for easy penetration and super strong hook set and hold.
Mustad Big Red Hooks, the name says it all!