Profishent Tackle Fishing Shirts Sublimated
We all like to show off at some point, especially fisherman… how big was it? That's why the product development team at Profishent Tackle set out to develop a range of fishing shirts for sale that were designed with a purpose, to show off, to stand out and to be different.
Let's look at The Barra Shirt – it's not just any old plain barramundi stuck on a shirt. The detail is exceptional. From the baitfish jumping to the archer fish in the background hidden within the snags to the mud crab trying desperately not to become the barra's next meal. You've seen fishing shirts, but I bet nothing like this. It's a piece of art, it stops you in your tracks and commands you to stare and read the whole story, it makes you feel like you need to get right among the action and cast a line straight into the shirt its self!
The Mako Shark shirt with the bait fish on is simply stunning. Murry Cod fisho's take note! you have not been forgotten. Just look at the amazing artwork of the cray that is about to become breakfast to the cod that just pops out at you. Simply stunning.
We also now have an Australian Bass fishing shirt for the dedicated bass angler in stunning format and great camo like colours for stealth.
It's not secret silver anymore when you don the new Jewfish fishing shirt. There are many dedicated jewie anglers out there who are going to be tripping over get their hands on this amazing mulloway shirt.
Dress in true aussie fishing apparel with one of our Yellowbelly cod and kangaroo combo fishing shirts. We're sure this iconic design will make its way into the gift bags of many aussie anglers for birthdays and Christmas.
You'd be silly not to select a shirt or so from these amazing designs featuring iconic Australian sport fish. Designs aside, these long sleeve fishing shirts are made from only the highest grade of knitted polyester that's highly durable, is light weight and cool. Why not show off, fish in style and help keep the harsh sun off your precious skin at the same time.
Features and specifications
Profishent Tackle sublimated Long Sleeve Fishing Shirt
Amazing designs – Second to none
Made from highest quality knitted polyester material
Resistant to Fading
Soft in feel
Light weight and moisture wicking design to keep you cool
Perfect for a long day on the water in the sun
UPF 30+
Note: Price is for 1 shirt only, Multiple images are to illustrate options only. Choose the model you require when ordering.
Size Guide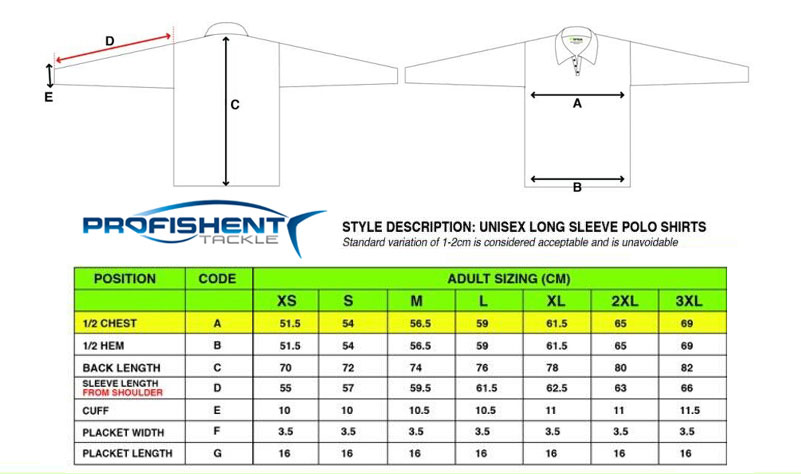 Benefits
Sublimated artwork designs that are the most stunning of finishes we have ever seen at Fishing Tackle Shop. They are show off worthy and priced affordably.
Unisex – They can be worn by either ladies or gents.
Knitted polyester is used at the core material to assist in keeping the shirt durable and ultra sort in feel. Other brands of fishing shirts have been known to have materials that have a course feel. Not Profishent tackle shirts. They only use the highest quality polyester that is ultra-soft in feel for ultimate comfort, which is what you need for a long day in the sun.
Go fishing in style, release the show-off within you, Buy a Profishent Tackle Fishing Shirt Sublimated model. The range sports the most amazing finishes you have ever seen.