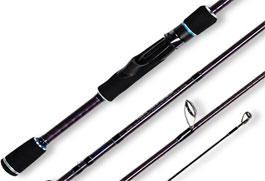 Shimano Tcurve TK3G Fishing Rods
From Shimano Australia and Ian Miller comes an innovative range of fishing rods from an already successful range. Shimano Tcurve has long been a popular series among anglers, spawning various upgrades and introductions of new models. TK3G offer high-performance fishing rods that are ideally suited to lure fishing.
Buy Shimano TK3G Fishing Rods HERE
About our range of Shimano TK3G Rods
High Modulus Graphite – Performance of these robust Shimano spinning and baitcaster rods is driven by a C4S blank, which is crafted from high modulus graphite. The end result is a supremely lightweight fishing rod with astonishing strength and sensitivity.
Tangle-Free – Get ready to fall in love with the Fuji K guides, as these deliver tangle-free performance and eliminate the frustration of fighting with your braided fishing line. Speaking of which, a lure-keeper is also fitted to these each of these Shimano fishing rods.
Supreme Comfort – The custom EVA grips have been designed to be hard-wearing as well as comfortable. You will feel entirely at ease whether you are casting or fighting with your next catch.
From Light to Heavy – Choose from ultra lightweight Shimano rods for bream, or else go with a heavier model for barra lure casting. Other potential targets include mangrove jack, murray cod, and yellowbelly, snapper and more depending on which TK3G T-Curve rod you choose.
Making Life Easier – With 11 fishing rods in our selection of models from the TK3G range, there is a lot of information to consider.
To make life easier, click on our live chat button at the top of the page if you have any questions.