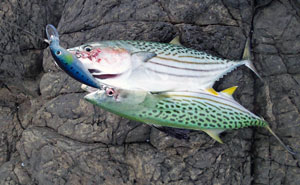 Saltwater Casting Minnow Lures
Rapala XXX Rap Cast Long Casting Fishing Lures – Now Online For Sale! For so long there have been anglers screaming for a decent hard body diver lure to cast off the rocks and the shore and finally one manufacturer has listened and produced an incredible new lure.
Buy Rapala XXX-Rap Cast Lures - HERE
About our Rapala XXX-Rap Cast Lures
These lures look great and will be responsible for captures of multiple species such as Kingfish, Cobia, Mackerel, Salmon, Tailor, various tuna species and much more.

On my personal first trial of these impressive long cast minnow lures I found them to cast well distance wise and it also resulted in a double hook up of Watsons Leaping Bonito.

If you're a rock fishing angler like myself that like to target some hard fighting fish then I'm sure you're going to be equally impressed with these lures as I am.

Long Casting Saltwater Lures are finally hitting the fishing scene. Check out our range of Rapala XXX-Rap long cast lures for sale in our online fishing tackle shop.
Check out the below video of what these Rapala Long Cast Minnow Lures are all about:
Rapala XXX-Rap Lures For Sale – Check out our range of sizes and colours in our online fishing store by simply clicking the shop now button.