Posted by Ocean Storm Fishing Tackle on 17th Aug 2015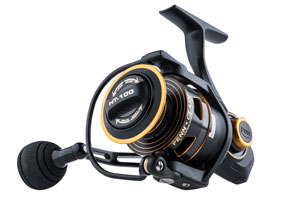 Penn Clash Reels
Saltwater anglers are going to love the new Penn Clash Reels for sale here at Fishing Tackle Shop. This series is a brand new release for 2015 and is making waves right across the world. Read more on the new reel series below.
It's no secret that Penn Reels by far are our best selling brand for us bar none on a volume scale per annum. On a yearly basis we turn over high hundreds of Penn reels and often spilling into the thousands.
To compliment our range of reels for sale we now are proud to be stocking the brand new Penn Clash series of reels which was the best new saltwater spinning reels at ICAST 2015. It is a premium range reel that is the next step down from the Torque but is a very strong, smooth and reliable piece of fishing equipment without the massive price tag.
What makes the Clash Reel exciting is that it is a reel designed to jump straight into the heavy duty saltwater spin market and particularly designed to handle braided lines with ease. CNC gearing is included which is a new concept machine gearing system this year that is designed to be tough as well as precise and smooth.
See our Range
Available in a range of sizes including, 2500, 3000, 4000, 5000, 6000 and 8000 there is a Penn Clash Fishing Reel to suit light-moderate inshore anglers right up to those that fish heavy offshore from a boat or from the beach and rocks.