Adrenalin Aqualand Casual Aquatic Shoes
Utility and great looks don't often go hand in hand. With the Adrenalin Aqualand Casual Aquatic Shoes, however, you get a classy looking shoe that is just as at home when worn in an inner city café as they are exploring the ocean rocks.
Built for comfort, grip and total water submersion, the Adrenalin Aqualand Casual Aquatic Shoes for sale now are your first choice of land and sea, surf and turf footwear. The high grip rubber sole has adequate drainage holes, so there is no slopping around when coming from the water. Negotiate rocks, tiles, poolside pebblecrete, and polished concrete while remaining sure-footed.
Adrenalin Aqualand Casual Aquatic Shoes are ideal for the boat angler and sailor. They provide outstanding grip on a wet deck and dry quickly, coping well with the sometimes wet, sometimes dry environment. Those sailors with immaculate mark-free decks will appreciate the non-marking sole.
If the family is about to head off coastal camping or on a reef island adventure, deck them all out in a pair of Adrenalin Aqualand Casual Aquatic Shoes. They're perfect for reef exploration and beachcombing. They're also the ideal camping shoe offering comfort and protection while looking great.
For an adventure in and out of the water without sacrificing style and class, the Adrenalin Aqualand Casual Aquatic Shoes covers all the essential criteria. Even if you don't get out adventuring, the Adrenalin Aqualand Casual Aquatic Shoes are perfect for wearing around the house, inside and out. Check the size chart and put a pair in your trolley now. At this low price, they're a must-have.
Features and Specifications
Aquatic Aqua Shoes
Drainage slots in sole
Versatile non-marking sole
Good grip on all wet surfaces
Look great worn in any casual setting
Comfortable knotted upper
Unisex but based on Australian Mens Sizing
Ideal for fishing, boating, reef walking, aqua aerobics, house chores and casual wear
Important Notes: These shoes are unisex but sold in men's Australian sizing. Women, please take particular note if you are a size 10 ladies (please do not order a size 10 from our order menu) We say this as far too often our viewer's order in haste and need to return the shoes for a swap as they have ordered two sizes too big!
Ladies, generally speaking, there are two sizes difference from men's and woman's size scale. So a size 10 Ladies will equal and mean you should order a size 8 from our menu.
For the avoidance of any doubt, please see our handy size and inner sole measurement guides below. Measure your heal to tip of the big toe, and you can get an excellent indication of the size you will officially need to order from our ordering menu.
Men, It is not just the ladies that often order in haste. Some men get quite confused as some brands sell in US sizing (confirming ours are AUS/UK sizing). For the avoidance of any doubt and to minimise the risk of returns we also suggest just taking a few minutes out of your busy day and also measure your foot then compare it to our inner sole chart.
Shoe Sizing Guide
Our shoes are based on men's AUS Size - Use the following table below to convert (Aus) to the 3 other metrics
| Shoe Size Mens (Aus) | Size 5 | Size 6 | Size 7 | Size 8 | Size 9 | Size 10 | Size 11 | Size 12 |
| --- | --- | --- | --- | --- | --- | --- | --- | --- |
| = Womans | 7 | 8 | 9 | 10 | 11 | 12 | 13 | 14 |
| = US Size | 6 | 7 | 8 | 9 | 10 | 11 | 12 | 13 |
| = EUR Size | 39 | 40 | 41 | 42 | 43 | 44 | 45 | 46 |
Chart is a guide only.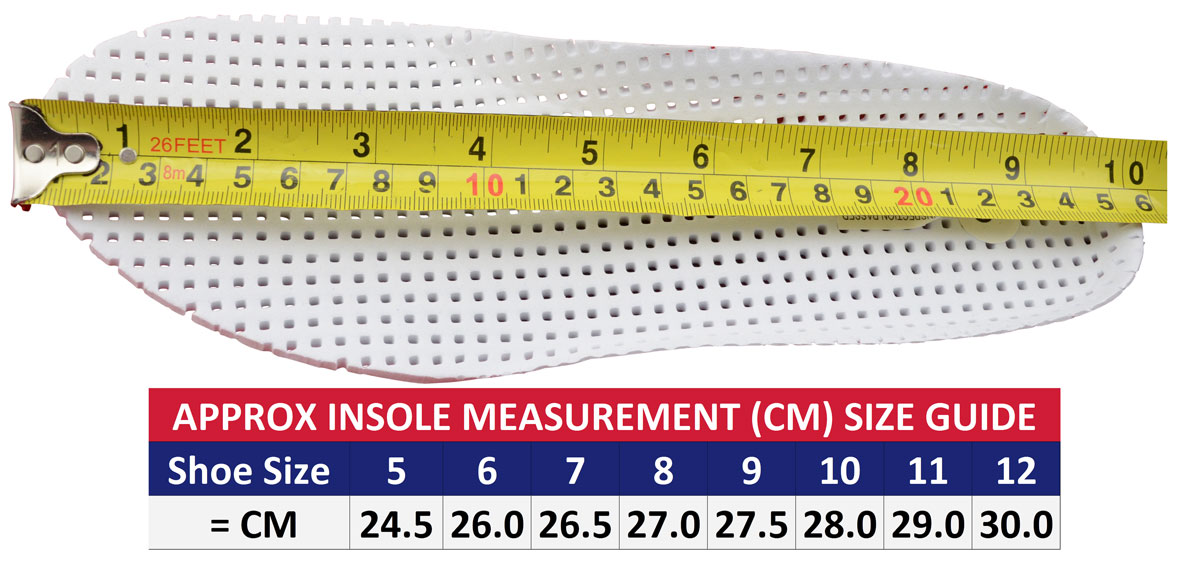 Benefits
A versatile outdoor shoe, it can be worn as trendy streetwear, at the beach, by the pool, exploring the reef and ocean rock pools. Brilliant boat shoes for the angler and sailor
The non-marking, high grip sole makes them ideal for boats, yachts and cruisers with pristine, easily marked decks
Heading outside? Expect to encounter water? Look great and beat the elements at the same time. The drain slots and fast drying fabric allow you to completely submerge your aqua shoes and remain comfortable without the need to change.
Here's an idea. Wear Aqualands around the house. Being soft, comfortable and non-slip makes them suitable for washing the car, washing the house, watering the garden and a host of other household tasks involving water where you wouldn't want to get your regular $200 pair of sneakers wet.
Explore the ocean rock pools and reef with protection and comfort. No need for a shoe change, your Adrenalin Aqualand Casual Aquatic Shoes will be dry and ready for sunset drinks by the bar.
Adrenalin Aqualand Casual Aquatic Shoes for sale now are must-have footwear for any outdoor activity that will involve water. From boat to the beach, to reef adventures. From a trendy urban café to a resort bar for cocktails, the Adrenalin Aqualand Casual Aquatic Shoes are the perfect marriage of great looks and versatility.