Ozpig For Sale - We also sell Ozpig BBQ accessories
Happy as a pig in mud. That's how you'll feel when your camp kitchen or camp site has the new Oz Pig BBQ as it's focal point. The Ozpig BBQ is an inspiration to outdoors cooking all year round, and a brilliant source of warming heat when living the outdoors life during the chilli months.
Our Ozpig For Sale is ideal for fishing trips, camping, caravanning, and all sorts of outdoor adventures. It's perfect for the backyard and brilliant on the patio. Used for cooking and heating, the Ozpig has a huge list of accessories making it incredibly versatile.
Where cooking is concerned, your imagination is the limit. Ozpig provides a massive range of cooking ideas with the accessories to make it all possible. From a simple billy tea, to the culinary masterpiece, the Ozpig will provide. Ozpig represents the simple and versatile option for memorable outdoor entertaining.
The Ozpig is an efficient 360-degree outdoor heater. Everybody can sit around the Ozpig feeling toasty and warm on the crispest of winter nights. You don't have to worry about the prevailing wind causing a smoke hassle. The Ozpig chimney channels the smoke up and away, so regardless of where you're sit, there's much less chance of smoke in your eyes.
Designed to burn slowly and efficiently, there's no longer any need to bring a forest load of fuel to keep it stoked. This is great for saving premium space in the car whilst travelling to your camp spot.
The Ozpig takes just seconds to set up making it very convenient. The big feature that most will find irresistible is that the Ozpig can be used in 90% of places where open fire is generally not permitted. Safety features include a spark arrestor, positioned in the chimney and an optional vented door, so that your Ozpig can be operated with the door closed.
Weighing it at a robust yet manageable 17KG, the Ozpig is built to last, handling the rigors of your camping extremes and the tough Australian outdoors. The Ozpig is built to last a lifetime of family camping adventures. The handy carry bag makes carrying and transport super easy.
Cooking in the caravan can be the pits as it's hot and cramped. Chargrilling, spit roasts, pizza, stir-fry and baking a loaf of bread, will put smoke and smell in your caravan that is impossible to remove. With the Ozpig, you can enjoy cooking all these feasts outdoors. The offset chimney makes it perfect for cooking in the annex also.
As the belly is off the ground, there is no damage to the manicured grounds of a caravan park. The safety options make it the ideal cooker and heating device for use in caravan parks.
While the Ozpig is a cooking and heating legend straight out the box, it's the Accessories that make it something truly special. Check the list below for accessories for sale that will allow you to customise your Ozpig to your needs.
Features and Specifications
Here is what is included in the basic main kit for sale.
1 x Ozpig Steel body unit (new version)
1 x Carry bag to suit
1 x BBQ Plate
1x Warming and Cooking Plate
4 x screw in legs
4x screw in extension legs
1x Vented Door
1 x Chimney Set – 3 sections
1 x Spark Arrestor
1 x plate lifting handle / wood poking device
1 x wire grate – assisting fire to breathe (ash trap)
1 x Comprehensive book of instructions
Weight: approx. 17 kg
Dimensions: 41.5 cm × 36.5 cm × 41 cm
Notes: Images for illustration only, please be aware that not all items in the multiple images we have on our website are included in the base price. The images showing the additional accessories are for reference and illustration only.. The base price is for what is detailed above under features and specifications. Any additional accessories such as diffusers, tool racks, heat bead baskets etc that we have for sale and shown in images are sold separate from the basic unit. Read more about the additional accessories sold separate to the basic main kit further below under the heading "Optional Ozpig Accessories For Sale" prices for these optional accessories can be viewed by selecting an option from our drop down order menu.
Benefits
Our Ozpig for sale is Brilliant for BBQ and chargrill cooking.
Safe and contained wood-fired heating, can be used in 90% of places that don't allow open fire.
The huge range of cookware and accessories provides you with a kitchen of endless cooking potential.
Great for camp oven cooking with a camp oven (sold separate)
Perfect 360-degree outdoor heating without getting smoke in your eyes
Temperature controlled cooking (using Ozpig Diffuser)
Wok cooking ability and able to Boil billies or camp kettles
Rotisserie cooking (using Ozpig Rotisserie Kit – sold separate)
Ideal for cooking and heating while camping, caravanning, fishing or in the back yard or patio at home.
The carry bag makes for easy transport and storage.
Optional Ozpig Accessories For Sale
Note: These are not included in the initial price – select the accessory you require from our order menu (near add to cart button) to select and view its price.
Ozpig HEAT BEAD BASKET
The heat bead basket allows you to use and alternative fuels source such as charcoal, heat beads or briquettes. It allows for all your favourite cooking methods as it allows for excellent heat control. Simply add or reduce heat beads to control temperatures to suit the items being cooked.
The basket is also ideal for preparing a small fire. Use twigs and kindling to create a small fire for boiling the billy or cooking breakfast. Purchase and extra basket and you can use it underneath the side plate. Now you have two cooking surfaces. Brilliant. The Heat Bead Basket is the most popular accessories on the list.
This Package includes
1 x Ozpig Heat Bead Basket
Ozpig VENTED DOOR
The vented door offers you the ultimate in temperature control and safety. Made from two steel doors, with stainless steel mesh between, the door is easily operated to increase or decrease the flow of oxygen. A closed door prevents hot coals and embers from escaping, mitigating against the risk of fire.
This Package includes
1 x Ozpig Vented Door
Ozpig TOOL RACK
Convenience and ergonomics are the flavour of the day with the Ozpig tool rack. Your fry pans, wok, eggflip and other cooking utensils are there in the zone, so you don't miss a beat in the middle of creating your lunchtime masterpiece.
Adjust the rack to suit yourself for the ultimate functional outdoor kitchen. When your done, simply pack up and return it to the sturdy PVC carry bag that it came in.
This Package includes
1 x Ozpig Tool Rack with storage bag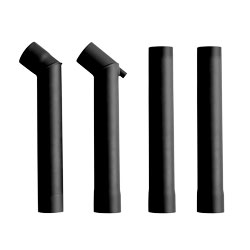 Ozpig DOUBLE OFFSET CHIMNEY KIT
The double offset chimney provides three excellent features. Firstly, rain won't stop the feast. Simply move the Ozpig under cover allowing the chimney to poke out from your shelter.
Secondly, Arranging the 45-degree pieces appropriately allows you to place bigger pans and camp ovens on the hot plate.
And third, the flexible options allow you to configure your flu so that it perfectly suits your circumstances and needs. The double offset chimney adds a significant level of versatility to your Ozpig.
This Package includes
1 x Ozpig Double Offset Chimney Kit
Consists of
2 x Ozpig Offset Chimney Pieces
2 x Ozpig Straight Chimney Piece
Ozpig DIFFUSER
The diffuser is the ultimate tool for ensuring you have complete control over the temperatures required for cooking. Different dishes require different heat settings. The Ozpig diffuser allows you to regulate the temperature to suit.
The added benefit is that you can prevent your dishes from burning on the base. Hot spots are eliminated and the need to stand over the cooking food is no longer required. You can get on with other preparations. A convenient handle makes it easy to use without the hassle of burns.
This Package includes
1 x Ozpig Diffuser
Ozpig CHARGRILL AND DRIP TRAY
There's nothing quite like a chargrilled steak, kebabs and other meaty delights. The chargrill plate is enamel coated so super easy to clean. The accompanying drip tray ensures you Ozpig stays free from cooking fats.
This Package includes
1 x Ozpig Chargrill and Drip Tray
Ozpig ROTISSERIE KIT
The Ozpig rotisserie connects to your Ozpig easily and quickly. The battery-operated motor (batteries not included) turns your spit perfectly while you sit back enjoying the view and your favourite drink. Cooking on a spit is the most relaxing way to cook. Simply skewer your chosen treat, set the variable height and away it goes.
Use the optional chargrill for your veggies at the same time for a wonderful combination of flavours. There's nothing quite like the taste of a woodfired spit. You could even use connect your optional bead basket and use charcoal for a genuine smoky flavour.
The Rotisserie kit turns an average BBQ into a sensational feast. When you're done, the rotisserie dismantles quickly for easy cleaning.
This Package includes
1 x Ozpig Rotisserie Kit
Ozpig ENAMEL BBQ PLATE
As they say at Ozpig, all BBQ plates are not created equally. The Ozpig enamel BBQ plate fits perfectly into the Ozpig opening. At 270mm you have plenty of room to cook up a feast, and the perfect heat distribution delivers chef-style results.
The enamel coating makes cleaning a breeze. Even the nightmare of sticky marinades is dealt with easily with soapy water and a cloth. No elbow busting scrubbing. From delicate pancakes to a T-Bone with marinade, your Ozpig enamel plate can do it all. Make sure you only use silicone or nylon utensils. You don't want to scratch the enamel.
This Package includes
1 x Ozpig 270mm round Enamel BBQ Plate
Ozpig LARGE WARMING AND COOKING PLATE
The Large warming and cooking plate comes into it's on when your cooking up a storm for a crowd. At 340mm x 255mm you have ample room for a range of cooking option. You can use the plate on top of your Ozpig or you can connect it to the side to use for warming. When it is connected to the side it is in contact with the Ozpigs hot body. Why not put on a camp oven for an all-day slow cooked feast for the evening.
This Package includes
1 x 340mm x 255mm Ozpig Large Warming and Cooking Plate
Ozpig COVER
When your Ozpig cools down after a hard day's work, put him to bed with his own special convenient cover. When you're staying in one place for a while, if your permanently set up in the back yard or you are expecting 'weather', protect your Ozpig with his own cover.
The cover mitigates against rust and dirt. It prevents moisture from creating soggy ash and preventing an easy start. The Ozpig cover will keep your Ozpig in excellent condition for a greatly extended period.
Ozpig LEG EXTENSION KIT
Want to raise the cooking steaks?The leg extensions have proved a very popular accessory. Take a little of bending out of cooking with the zinc-coated steel leg extension kit. Screwing the extension securely into the Ozpig, you gain an instant 200mm.
That extra bit of elevation not only improves cooking comfort but also allows you to recline into your camp chair and stare straight into the fire. Perfect. And don't worry. You won't lose them. The extension legs pack away into your Ozpig carry bag.
Ozpig Oven Smoker
If you love the taste of smoked meat and veggies, you'll be stoked with the new optional smoker oven for sale.
The Smoker is the perfect companion to your pig and is more than capable of stable temperature range between 100 degrees and 350 degrees celsius for slow cooking and smoking all your favourite delicacies or for cooking woodfired pizzas and roasting certain meats.
The Smoker oven contains the following elements 1x Smoker body, chimney, baffle and cap, water pan, thermometer and also includes 4x shelf racks which are stainless steel and adjustable within the smoker.
So, what are you waiting for? Join the revolution and buy our Ozpig For Sale. It is an affordable and portable piece of kit for camping or for home. Our Ozpig for sale or any accessories should you choose to purchase any are available for delivery Australia wide. (We deliver worldwide too).