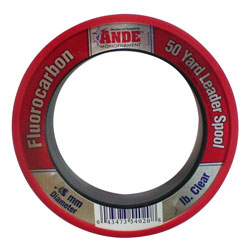 Ande Fluorocarbon Leader is what you need if you want an invisible shock leader.
Ande is one of the few true specialists in the fishing tackle industry. After more than 50 years and over 1,800 IGFA world records, Ande is still focused on crafting monofilament fishing line. And within the monofilament field, Ande also excels at producing fishing leader line from fluorocarbon.
About Ande Fluorocarbon Leader
Australian Leader Line – Ande fluorocarbon is perfect for fishing just about all Australian conditions and situations. Ande fishing leader is loaded with benefits that will enhance your performance.
Transparent Appearance – A clear advantage of using fluorocarbon over nylon is that its transparent appearance will prevent fish from easily spotting your fishing line. Fluorocarbon is invisible once it hits water and an opaque leader line will often scare fish away before you can catch them.
Greater Abrasion Resistance – What you will also find about Ande's fluorocarbon leader is that it boasts high abrasion resistance, which means fewer breakages when the fishing leader line runs across obstacles.
Longer Lifespan – Ande has even managed to extend the lifespan of this fluorocarbon leader line, and has done so by making it resistant to water absorption and damage from UV rays.
Leader to Suit Your Technique
– To find the best fluorocarbon leader for your angling approach, a little help can go a long way. You can talk to our experts about Ande and other types of fluorocarbon leader by simply contacting us.