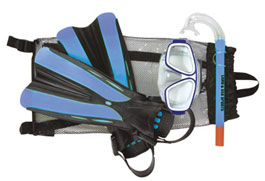 Land and Sea Platypus Pack – Kids Mask and Snorkel Set
Introduce your children to the enchanting world waiting for them under the sea. A Platypus Kids Snorkel Set from Land and Sea will give them the confidence to explore beneath the surface and discover how undersea life flourishes.
About our snorkeling gear for kids package
This all-in-one children's snorkeling package is incredibly affordable because your child will have everything they need from one simple purchase. That should give you piece of mind during years in which they will be growing ever taller.
Durability is a major positive in this kids snorkel pack, as Land and Sea has crafted the mask and snorkel from rugged silitex. Sticking with the impressive snorkel, this has been engineered with a splash guard and purge valve to minimize the intrusion of water.
The flippers have an adjustable back strap to suit multiple child foot sizes and are remarkably comfortable due to the ergonomic foot pockets. It's hard to believe you can have so many impressive features for such a low price! Capping it all off is a reusable mesh bag for compactly storing the gear.
Highlights of our kids snorkeling set
Adjustable back strap for suiting multiple foot sizes
Available in blue or pink
Ergonomic foot pockets
Purge valve
Silitex mask and snorkel
Splash guard
Storage bag
Benefits of our Childrens Snorkeling Set
These kids snorkel sets are suitable for both boys and girls, as colour choices are available in either blue or pink.
The performance and comfort of the flippers are underpinned by the ergonomically-designed foot pockets with adjustable back strap to suit multi foot sizes between foot sizes 8-12.
Durability of the mask and snorkel is enhanced by the usage of rugged silitex.
Minimal water enters the snorkel because of the splash guard, with a purge valve also present to flush out water.
A mesh bag contains the mask, snorkel, and flippers for compact storage.
The Land and Sea Platypus kids mask and snorkel set gives your child all that they need to have fun exploring undersea life.
Order one of these incredibly affordable packs online from the Fishing Tackle Shop and make their weekend.