Guide To Buying Kayak Shoes
Experienced kayakers, paddle boarding and water sports fanatics are all too aware of the benefits of a good pair of kayak shoes. Aquatic environments, river and sea, present an endless list of obstacles, hell-bent on ripping our feet to pieces. From rocks to corals, barnacles, and razorfish, the water's sharp bits are tough to avoid. Inevitably, we find them.
The ultimate way to mitigate against these joy thieving marine radicals is to invest in a pair of kayak shoes. Not only will your feet be protected during your Kayaking adventure, but you'll also have a safer trip from the car to the water's edge. How often have you spotted broken glass or oysters in the shallows as you're launching?
Foot injury aside, there's also the benefits of warmth, comfort, as well as protection from insect bites and chafing.
The fishing tackle shop has a terrific range of kayak shoes for sale. We also have kayak socks for sale.
This short blog is designed to help you make the right decision about appropriate kayak shoes for your kayaking expeditions. Follow the links and check out our range. One thing you will discover is that the kayak shoes for sale at the fishing tackle shop are so affordable, you can get several pairs to cover all your different kayak adventures.
What are the best shoes for Kayaking?
Not so long ago, the choice of kayak shoes was a little limited. Now, we're spoiled for choice, and you can make a selection that's refined to your particular kayak application. It's not like the old days when you wore a pair of thongs, sandals, old runners, sand shoes or nothing at all.
The kayak shoes available here at the fishing tackle shop are designed, not just for getting wet, but also to expel water quickly, dry quickly, and hold their form when saturated. Importantly, the design of kayak shoes is for comfort.
Depending on the design and model, your kayak shoes can be convenient on land as well. Grip, traction, and fit are critical when stepping out of the water for activity on land. For some kayak adventurers, this happens frequently.
Of course, there are models designed to keep out the cold, provide grip in your kayak and a good feel on the pegs or peddles. Perhaps chafing is a thing for you, and you'd like to avoid your foot straps chaffing your wet skin.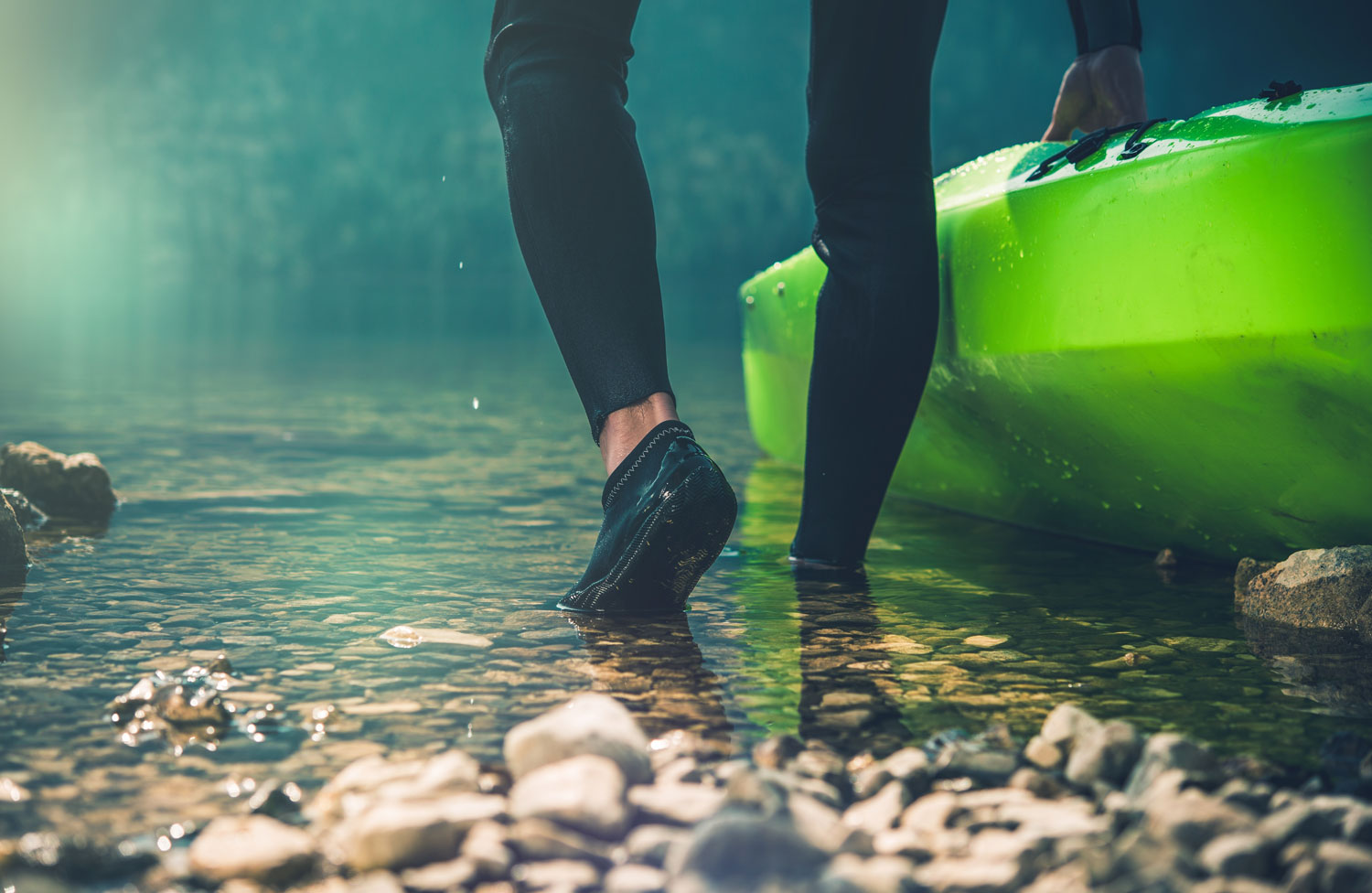 Here are some things to consider
Getting in and out of Kayaks - Will you be getting out of your kayak frequently, perhaps carrying your kayak across land or slippery rocks, as a river kayaker might. In this case, you may wish for a puncture resistant sturdier sole with a grippier tread.
Mud - Will you be encountering plenty of mud? Choose a kayaking shoe with a snug fit that has laces or straps. Mud can suck strapless shoes straight off your feet, and you may never find them. At the very minimum, you might be digging for a while.
Sand - Those cruising the lakes and beaches in a balmy summer, light-weight slip-on may be just the thing. They're ideal for walking on harder sand, and if you get sand inside them, it's easier to remove.
Shallow Rivers - Perhaps you're fishing the icy cold rivers in the mountains. The creeks have many obstacles, and you'll need to carry or push your kayak through the shallows. A combo of a light running style shoe with a kayak sock will be perfect. You get the warmth of the sock, with the traction and support of the running shoe style.
Skin Protection - For many kayak expeditions, we need to cover all of our skin for protection from the sun, the cold, or worse; biting insects. A set of ankle high booties or kayak socks can make all the difference, covering that little bit of exposed skin between your trouser hem and your shoe.
Urban Waterways & Sharp Objects - Those who kayak the urban and suburban waterways should look for penetration protection. It's these places that we find glass, tin, steel and other bits of refuse that can do severe damage to wet feet. Again, a sturdy, thicker sole and upper will deliver the protection you need.
Ocean rocks - Ocean faring kayakers have a similar need to protect against penetration. Barnacles, rocks, corals and other marine life can be dangerous. Even the slightest brush with a hard coral can create cuts abrasions and severe discomfort.
Cold conditions - Of course, there's the cold. We don't hang up our kayaks just because the cooler months have arrived – no need for cold feet. Thick Neoprene, wetsuit style kayak shoes, or socks, for that matter are perfect for keeping the cold at bay on long winter paddles. Your feet are not only warm, but they're also protected.
Wet Surfaces & Chafing Feet - For kayaks with straps, chafing can be a real issue. It's potentially worse for those that are in and out of their kayak and adding dirt, sand or grit to the equation. For chaffing issues, just about any kayak shoes will afford serious protection from this annoying and often painful problem. Even kayak socks will ward off the dreaded rash.
Step Into Your New Kayak Shoes
Do yourself and your feet a favour and get yourself a pair of kayak shoes or socks. As we mentioned earlier, shoe designs are for specific purposes. You may find that several pairs are required to cover all of your kayaking needs.
The beauty of this is that kayak shoes are affordable at the fishing tackle shop. With a few clicks of the mouse, you'll be able to kick off your next paddle in a new pair of kayak shoes. Your feet will love you for it.