Posted by Ocean Storm Fishing Tackle on 29th Jun 2016
Jarvis Walker Watersnake Electric Motors For Sale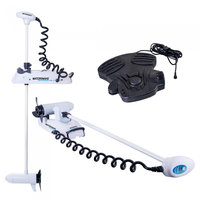 Electric motors have revolutionized our approach to fishing the inshore grounds in our boats and kayaks. Here at Fishing Tackle Shop we sport a fantastic range of bow mount and transom mount electric motors that will provide you with unrivaled precision and control that will see you in the perfect position for casting and trolling.
A Transom Mount Motor for your Kayak
Soon we'll be seeing as many Kayaks on the bays and rivers as we do the great Aussie tinny. Kayaks have exploded on to the scene.
If you want to get the best out of your Kayak fishing you really need to mount an electric motor. Fancy trolling from your Kayak?
Check the Water Snake range of transom mount electric motors for sale. There is a great selection to meet your stealth and power requirements.
A great range of Electric Motor Parts and Accessories
Keep your electric motor at optimum performance with our range of spare parts and accessories for sale.
Enjoy the ergonomics of a Telescopic Motor Extension Handle. Grab yourself a spare or replacement foot controller for your bow mount.
Run your Prop over one too many rocks? Get a replacement prop for sale here at fishingtackleshop.com.au.
From fuses to circuit breakers and motor mounts, we have a fantastic range of gear to keep your electric motor running at its best.
Get Stealthy with a Bow Mount
Of course your 125 Honda will get you there quickly, but it doesn't really have a stealth mode for getting quietly into those hard to reach places for the perfect stealthy cast.
Our range of Water Snake Bow Mount electric motors will give you the edge for quiet, efficient trolling, or for getting to those shallow, hard to get places among the structure where your target is lurking.
Want plenty of thrust? Here at Fishing Tackle Shop we have the Water Snake GPS smart electric motor for sale. Set a course, kick back and focus only on the fishing. Calibration is easy.
There's 80 pound of genuine thrust and a bunch of accessories to maximize performance and convenience. The prices are very affordable. Check it out now.