Now your shoulders are as big as Schwarzenegger's from paddling from one end of the river to the next, you have earned yourself an electric motor. The Jarvis Walker Watersnake Kayak Motors are the perfect tool for taking the labour out of a kayak fishing expedition.
The controls are well thought out and very easy to use. The two-speed system provides option for speed versus stealth and economical running. The mount is supplied with both models listed below and provides a level of flexibility, with a sure fit that inspires confidence. The mounting bracket has anti anti-impact clip that will protect your 24 inch shaft and weed free prop from the inevitable impacts you are likely to encounter fishing the snags and the shallows.
With a choice of 18 or 24lb of thrust, you have the power to take you and your fully loaded kayak to places where the fish are hunting, and land based anglers, and those in big boats, simply can't access. With a good 12-volt battery, you will get a tremendous amount of effort free motoring form your APS Watersnake.
The motors are astonishingly light. Brilliant for when you have to carry your kayak and kit any sort of distance to the water's edge. The light weight also ensures there is no issues with balancing your vessel. An extendable handle gives you mobility and comfort. You can adjust your seating position and adjust your handle to suit. The tiller stows away, when not in use, for safe keeping.
The Jarvis Walker Kayak Motor with Kayak Bracket Combo come in at a price that is far less than a half decent spin reel. Grab one now and put it in your shopping trolley, you will wonder why you didn't do it years ago.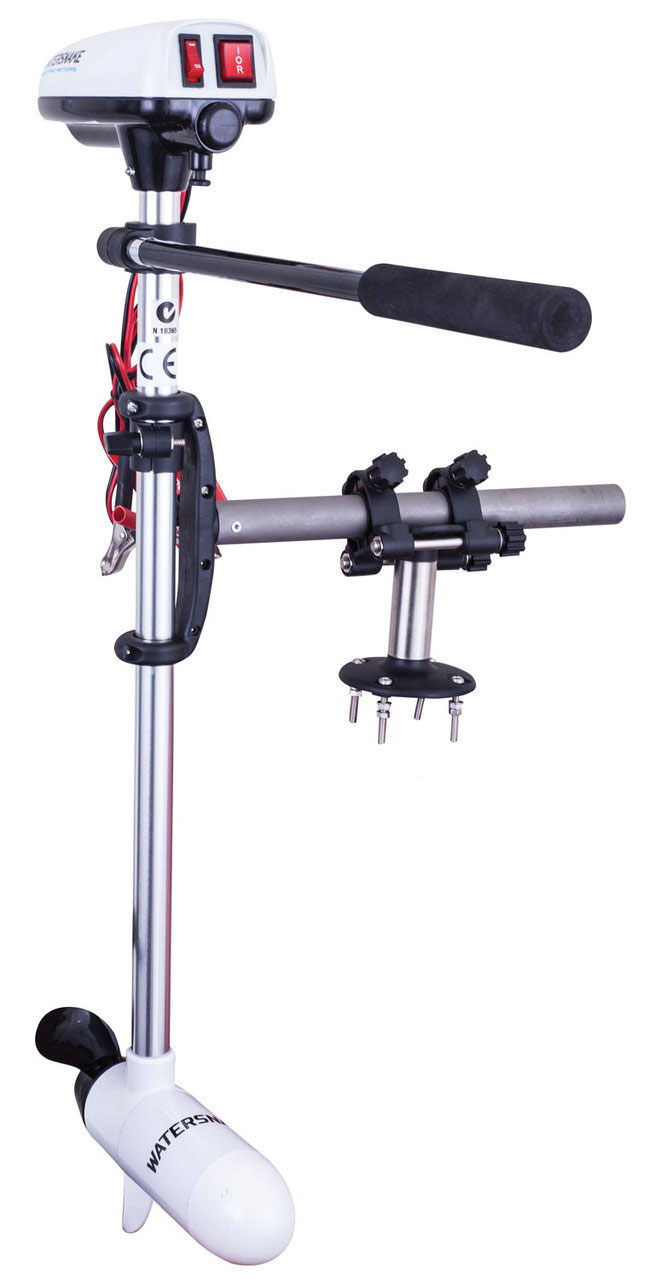 Features and Specifications
White colour
Stow Away Hand Tiller
Adjustable transom-mount fitting
Weedless propeller
Anti-impact clip system in the mount
Extendable handle
Very easy to use controls
Features and Specifications
| Motor | Thrust Volts | Amps | Shaft | Bracket | Speeds | Prop |
| --- | --- | --- | --- | --- | --- | --- |
| ASP T18 Motor - With Bracket 18lb | 12 | 7-15 | 24" | Transom | Hi-Lo | 2-Blade |
Benefits
All the thrust you need for getting to those places where the fish lie in waiting without needing the physical effort.
Thee Anti-impact clip system protects your light weight shafts for inevitable collision with the bottom, snags and other structure.
The super lightweight construction makes transport very convenient, particularly when the water is some distance from where you parked your car.
The lightweight motor also means your kayak remains balanced.
The two-blade propeller is a weedless design, ensuring you get peak performance as weed will not collect on your prop.
The adjustable transom mount fitting allows you to customise the motor location to suit your needs and the demands of your kayak.
Why paddle when you can glide through the water effortlessly. The Jarvis Walker Watersnake Kayak Motor is a brilliant, affordable, lightweight kayak motor that will make your kayak fishing far less strenuous and far more enjoyable. More time on the water because of less fatigue means more fish in your keeper bag.
Buy ASP T18 Motor - With Bracket HERE