I don't know any angler who needs an actual excuse to go fishing. For many of us, the fact we're breathing is all the incentive we need. Having said that, the current Covid-19 apocalypse is reason enough to hit the water in glorious isolation.
It needn't be a lonesome adventure, however. If you're immediate family (those you live with) share your angling passion, you can take the whole tribe. Even if they don't share your fishing passion, insist they go with you anyway and take some time to smell the roses or fish guts, as it were.
Covid 19 fishing expeditions are a great way to get the kids off their devices and distract your wife from yelling at the kids to get off their devices.
We're all going a little stir-crazy, and the media-driven lousy news is relentless. The truth is, we could all do with a bit of fresh air and a bit of fishing to restore a sense of balance.
Check Out Current Government Restrictions for Your Area
Before you start tying your leaders and packing the ute, check the Covid 19 fishing / isolation / social distancing rules for your particular neck of the woods. This is important. The rules can vary, they're confusing and on the grey side.
What I can confirm (at the time of this writing) is that in NSW fishing is considered exercise and exercise is allowed. I reckon that half the angling fraternity work up more of a sweat watching telly… but there it is. Exercise. - perfectly permissible.
Take note. You won't be able to pack the ute with your regular fishing mates. It's isolation or the family.
So, how are we going to scale this fish? Normal fishing session at your favourite spot? Education session for the kids? Target a species?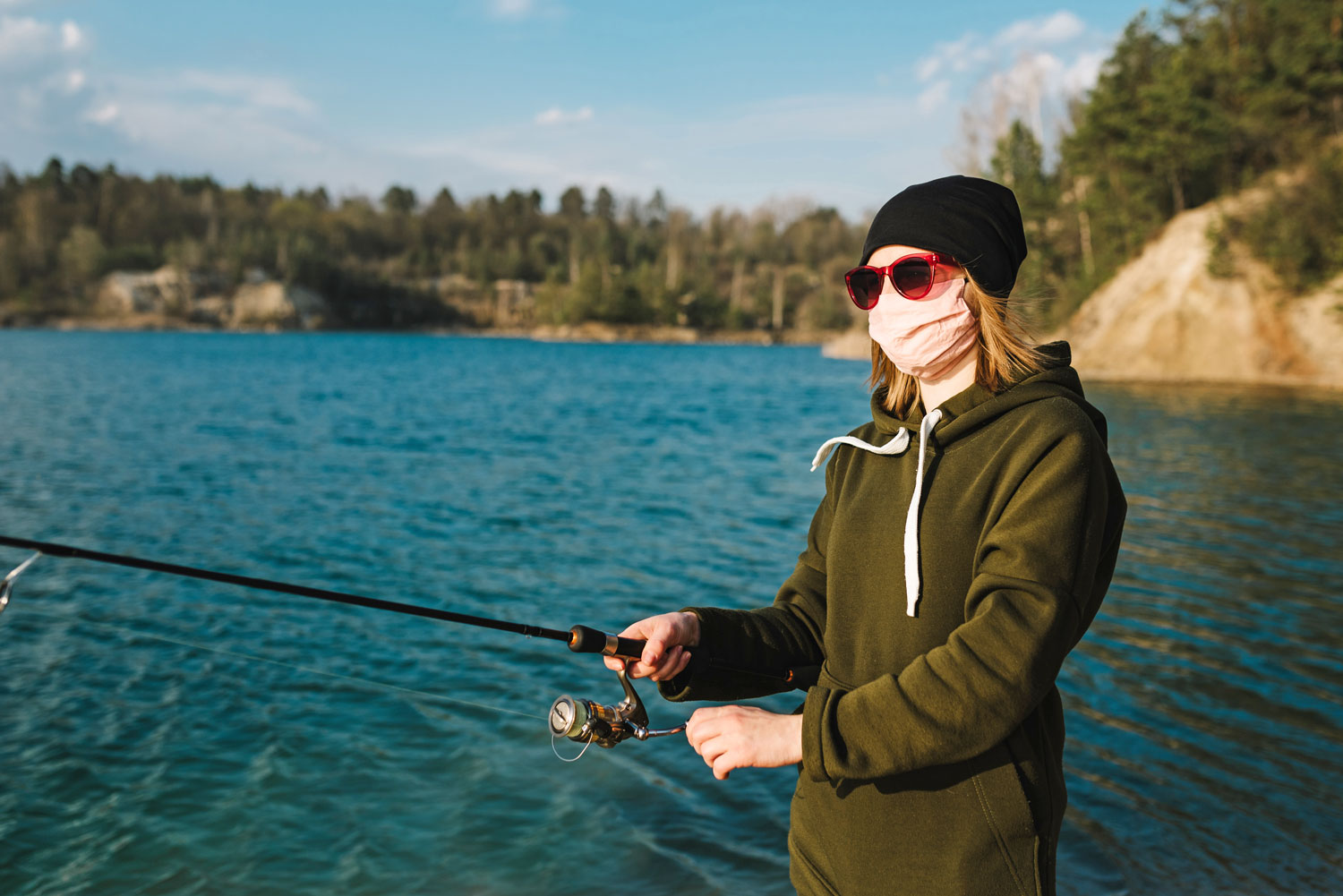 The Pandemic Fishing Challenge
In the grips of a global pandemic, it seems that toilet paper is a life and death resource. Who'd of thunk it?
Well, it turns out you can't really eat your favourite two-ply. It's actually food we need to worry about. So lets fish for a feed.
Here's my Covid 19 fishing challenges. Option one is the minimalist survival mode. Option two is the lure challenge. Both options don't involve much cash if any. So, if your current employment is on the go-slow, you're still in.
I've put some links in the challenges bellow so you can stock up on anything you might need.
Survival mode
In this challenge your allowed a Fishing Rod Combo , and only the terminal tackle that you can fit in your pockets. You're not allowed to purchase bait, use any foodstuffs from your kitchen or lures of any sort. You have to collect bait.
You can carry a keeper bag and a brag mat for your catch. You might be starving, but you can't take undersize fish. Remember this is a survival simulation only – hopefully.
You can save the real survival mode for a more Hollywood style pandemic when you have to contend with zombies. Of course, you'll need a fishing knife, hopefully not for zombies.
The challenge here is pretty obvious. Fishing has allowed entire communities, tribes and individuals to survive for millennia.
Do you have the skills to survive off the ocean's resources with only your wits and the bare minimum of fishing kit? And it's one thing to feed yourself; can you catch enough to feed your family?
Challenge on!
Here's a couple of tips
The beach is a great place to collect bait, particularly if your beach holds worms or pippies. (cockles for the southerners)
The ocean rocks are a fantastic place to collect bait as well. Every shell, crab or mollusc with something fleshy inside could be a fantastic bait. For great results, cunjevoi is sensational.
For those fishing the fresh, you're chasing seasonal bugs and critters such as worms, grubs and crickets to use for baits.
While carp are certainly not whiting fillets at Doyle's, they have a tremendous amount of edible flesh. If there's corn about, you have your bait and believe it or not, there are recipes about for the nasty old carp.
Get resourceful with your bait collecting. Long sticks and driftwood can be useful for catching crabs, for example.
While you can't take a bait trap from home, (against the rules), you can make one from the rubbish you find…and you will find it. Check out the video below. This is a great live bait trap. While you can't use bread…again, against the rules, some crushed up cunje will work a treat.
This challenge is family-based fun where genuine survival skills can be developed. The important thing is to get into the survival spirit of the challenge. G-up the family, and you'll find that this one of the best educational experiences you can pass on to your kids. Fishing's for life, in so many ways.
The Two Lure Challenge
Again, the main theme of this challenge is to bring home a feed to your starving, apocalypse weary family. This challenge will generally be a little (a lot) more chill than the survival mode challenge above.
But the spirit of the challenge is to use your creative fishing skills and local fishing knowledge to make the most out of the lures you have and bring home the bacon…fish. Or a bacon fish. Which had it existed, might be the most popular fish in the ocean.
In this case, you're allowed your standard fishing gear, but just one rod and two lures. You can take 1 hard body and 1 rigged soft plastic. No future jig head or colour changes allowed.
I'll put a couple of links to some great inshore (lake-River) all-rounder, percentage-play lures below. Of course, you might have your favourites, but it's worth having a look at the sorts of lures that work on a variety of our most common table fish.
You'll need to have a think about your local area and its respective fish populations. For example. The far northerners will be hunting barra. The vast majority of Australian anglers, will have bream, whiting and flathead on the hunting list.
Of course, if you have a spot for sure-thing tailor and Aussie salmon, then it's up to you. Yes, Aussie salmon isn't the tastiest either, but on my local beach, the 4-kilo monsters deliver a heap of protean filled, nutrient rich survival food source.
It's a simple challenge really. Or is it?
Here's a few tips
The toughest decision is choosing your lures. Who thought of cranks, stickbaits and minnows for the hardbody? It's a first thought, of course but never underestimate the power of a metal slice.
Who catches slimy and yakka for live baits? Lots of you. In 10 minutes you can have enough slimy or yakka to feed your family for a few days. Consider a bait jig. You'll have to swap out one of your lures though, and a bait jig is a lure. Remember, the challenge isn't about the fish type or flavour. It's about feeding hungry people efficiently.
Take care if fishing aggressively. I know you want to get deep into the structure, it's where the fish are. However, you need to weigh up the risks. You only have two lures. This fishing is more about the percentage play and less about the sport. Spool up with as heavy a line class as you can without impacting the lure action or rig balance.
Wrapping up the Covid-19 Fishing Challenge
Of course, you could just grab you gear and go fishing, and that would be fun too. If it's only a few hours respite from the current madness, it's worth it. However, the current global pandemic has genuinely given me pause to think.
Should I be in a situation where there really was no supermarkets, no 7/11 convenience, and toilet paper was the last of my concerns, could I actually survive. Could I use my 40 years of angling experience and feed my family?
I'm truly fortunate to have never had to fish for my life, or the lives of others. But I'm pretty sure that casting the last lure I had left, knowing that catching a fish was a literal imperative, would heighten the experience, to say the least.
Take the challenges and have some fine family fishing fun with it. Keep it in mind, though, could you do it for real?
Signing off - Fishing Tackle Shop Team Writer – Anthony!
Here's a few links to some awesome allrounder lures.
- Lures by specific fish species