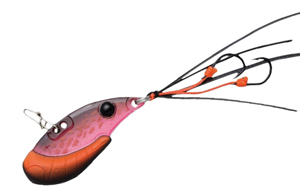 Are these tournament bream lures?
Well if it's anything to go by with the success of the Ecogear VX 439 and 445 models and the ZX shrimp blade model 416 I'm sure Ecogear Lures Australia are on their way to another brilliant success story.
So are these a tournament bream lure? Well with the absolute success of the previous models I'm sure many tournament anglers will be jumping all over these new vibes as will amateur fisho's.
Buy Ecogear Breamer Vibe Lures - HERE
About our range of Ecogear Breamer Vibe Lures For Sale
Bream slayers - Yes there is no argument here that the new Ecogear Breamer blade / vibe lure will be a sure producer amongst Bream anglers fishing around the racks, pylons and around weed beds in both saltwater lakes and rivers where prawns are likely to be lurking.
Whiting Lures – You bet! If you haven't caught a whiting on a blade lure yet give it a go! Head to the sand flats where whiting are often found and start chucking an Ecogear Breamer vibe fishing lure around and wait for the results. Don't be surprised if you even end up with a flathead as a tasty by catch.
Australian Bass and Trout – Breamer vibes are not just for saltwater anglers, these vibes will also work well in the freshwater systems for both bream and trout as freshwater shrimp are also amongst the diet of these freshwater predators.
Ecogear Breamer Vibes For Sale - There are multiple colours available in the new range of lures and can be viewed along with more information on these brilliant new lures by hitting the shop now button.