In decades past the baitcaster reel belonged in the realms of the competition and highly experienced anglers as well as reserved for those with a pretty expansive budget. You may remember the first time you saw one as a kid. You wanted one, didn't you?
You may also recall the first time you did use one and the nightmare of a birds nest that ensued. You'd never had that happen with a spin reel.
While decades ago, and indeed up until recently, access to baitcasters has been tough for those on a limited budget. However, the price was never the most significant issue of baitcasters. The problem with baitcasters is that they were challenging to learn to cast. Moreover, the consequences for poor casting were horrendous and mediocre casts were a real possibility, regardless of how skilled you were.
It's now coming on to the 2020's, and baitcaster technology has developed radically. If the addition of level winds (decades ago) wasn't enough, the recent advances in braking systems and casting controls have taken the baitcaster reel to a whole new level.
The baitcaster reel in many brands and models are now significantly more user-friendly, and because of this, their appeal has skyrocketed to a new market. Now your average angler can get all the fishing performance benefits of a baitcaster reel, without the casting hurdle.
The fishing tackle shop has an outstanding baitcaster reel range for sale in both low and round profiles. While you can still spend well over $500 on a baitcaster, there's a great selection of more affordable models. A little more than a hundred bucks, and you're in business with a performance baitcaster.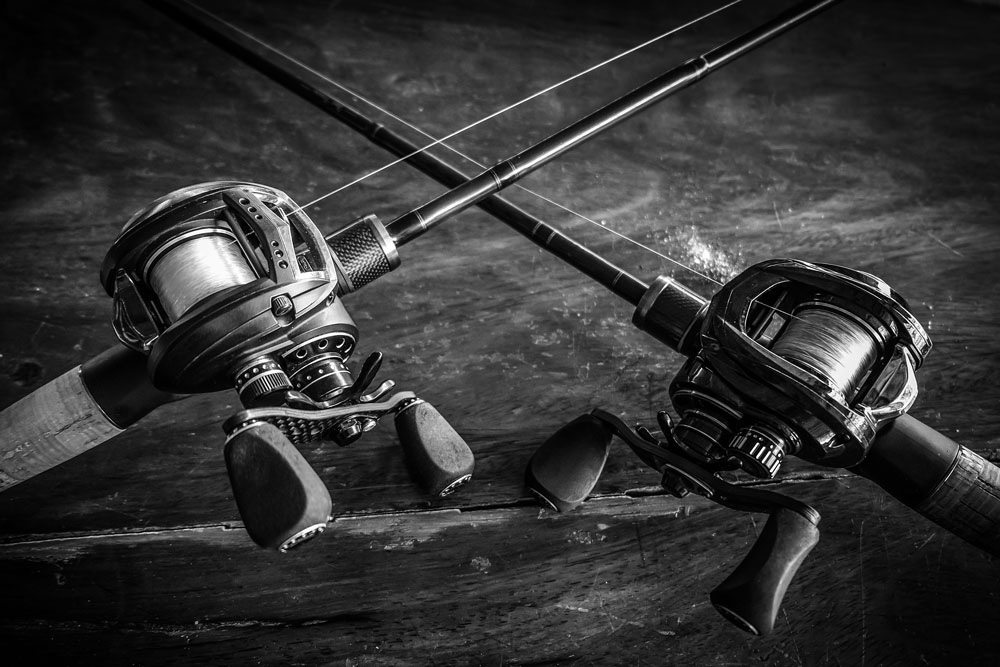 Why is a baitcaster better?
Even with the astonishing advances in spin reel technology, the baitcaster reel still takes the accuracy crown when in the hands of a skilled user. The line rolls off a turning spool eliminating line twist, with radically reduced friction relative to a spin reel. The result is a more extended, more accurate cast far more consistently.
Generally speaking, and we mean very generally here, baitcasters can also hold braid line of a more heavier class, usually have faster gears, have better ergonomics than a spin reel, and are generally stronger.
The strength comes from the perpendicular position of the spool, and the positioning of the gears relative to the spool. It's tough to match the default strength of this configuration in a spin reel of similar capacity.
In short, they're stronger, far more accurate, are great for braid and have far better ergonomics for efficient fishing, especially for cod and barra where you need to fish hard up in the snags.
While no baitcaster reel has ever had its backlash potential absolutely eliminated, it has undoubtedly had reduction. Essentially, the trade-off for highest performance in all areas is the potential (however limited) for a joy-killing birds nest as a result of overrun (backlash). With a little practice, backlash will be as rare as hen's teeth. Alternatively, go for top technology and consider purchasing a Shimano DC Baitcaster for digitally controlled backlash prevention.
Should You Buy Round or Low Profile?
While the choice of profile often comes down to personal preference, there are some useful points to consider in your deliberations.
Size of your target fish and lure
Generally speaking, the round profile will be more appropriate for a chasing larger class of fish and casting a larger lure. They will often have significant capacities for a more substantial line class, more powerful drags, and stronger gears. The maximum size of a round profile is much bigger than that of a low profile.
The size of your hands
It might sound odd, but often smaller low profile reels are less suitable for those with large hands. The compact nature of low profile reels will often compromise larger than average hands, negating the ergonomic advantages.
Versatility
Low profile reels are brilliant for fast and long casting inshore. The efficiency of low profiles is unsurpassed. They're excellent for casting long, hard and fast with supreme accuracy. While legendary on most modest-sized inshore species, some low profile reels are perfectly capable of chasing a large class of barra and Murray cod.
A round profile will do all of this too if a little less nimbly and perhaps with a bit of overkill. However, a large round profile will also have light offshore, beach and rock capabilities. Take a Shimano Calcutta 700B for example.
This little round profile will hold 620 yards of 50-pound braid with 16 pounds of drag and huge braided line capacity, your tackling big fish. You can cast lures, but you'll also throw live baits at Mulloway or troll the blue water for pelagic species or bounce the bottom at your favourite reef.
A low profile reel balanced with a suitable baitcaster rod is like an extension of your arm. It's like the outfit is part of you allowing rapid-fire flipping with supreme accuracy. With the right model, however, you'll also be able to troll the Daley for big barra, as well as cast from a distance into the structure. Take the Quantum Affinity for example. It's a tiny reel but will be just as capable against big barra as it will finessing bass.
Talk to the Fishing Tackle Shop About Your Next Baitcaster Purchase
For many anglers, there's place in their reel arsenal for either baitcaster profile. For the complete weapons range in your fishing kit, we'd suggest a model of both.
The baitcaster reel will progress your fishing skills, of this we're sure. You'll be astonished how all of a sudden you're hitting the exact target your aiming for, and how effortless it will feel.
While the round profile might offer greater versatility, capacity and a more robust feel, the low profile makes you feel more connected than any other reel style on the market.
Once you've become proficient using your preferred baitcaster reel, you'll never want to put it down.
The fishing tackle shop has an extensive range of baitcaster reels for sale often from Daiwa, Shimano, Quantum, ABU Garcia and Jarvis Walker. There's a reel to suit your budget and your application.
At the fishing tackle shop, we know all too well that making a decision can be tough with such a vast range from which to choose. Give us a call and have a chat with our experts. We'd be more than happy to answer any of your questions and offer advice so you can fish the perfect baitcaster.
When you're ready to purchase, you can find our Baitcaster Reels For Sale Here